NOTICE: Your Browserversion isn't supported anymore. Please update your browser to see the site correctly!

Yaskawa USAIKM spindle motors
Repair - Exchange - Sale
Our performance
In-house repair
Use of high quality parts; no cheap replicas
Engine is inspected and tested under realistic conditions
Capacities also for very high volumes
Repair procedure at a glance
New and fine adjustment of encoder/encoder systems
As needed winding repair and balancing
As needed connector repair or replacement
Standard complete overhaul according to checklists by our competent technical staff
For irreparable equipment, an alternative solution will be offered (e.g. replacement or sale)
12-month warranty on repair and replacement service
Standardized repair turnaround times 4-7 days. Express repairs possible.
Examples of type names
Spindle motors: USAIKM-50-BK43-A, B, C, D, USAIKM-50-BK33-A, B, C, D, USAIKM-50-BK42-A, B, C, D, USAIKM-50-BK32-A, B, C, D, USAIKM-60-ES13, USAIKM-60-ES16, USAIKM-15-MN21, USAIKM-15-MN34
Encoder: UTMSI-10AAEAZP, UTOPH-10AWW
Yaskawa USAIKM motors are air and water cooled high speed optimized motors up to 16,000 RPM
These engines can be found in the following machines: Matsurura, Hitachi Seiki, Brother, Star, Hurco, Miano, Rover, Enshu.
The motors are mechanically as well as electronically very complex. Especially for the encoder system, we are the only service provider able to offer a repair, so that in case of defects or errors, no complete replacement must be completed.
Profit from our know-how and let us convince you. Take advantage of the benefits and save time and money.
Now we can offer a qualitative repair for this engine series:
The engine is overhauled on the ground, completely disassembled. Old paint and dirt will be removed.
The reassembly is done precisely exactly according to checklists.
Each motor gets a precisely adjusted, new encoder system. High-speed ball bearings up to 25,000 RPM and all seals are replaced. For water-cooled motors, the most precise attention is paid to new seals and they are thoroughly cleaned.
Fans are overhauled on ground and cable terminal strips are always replaced.
After repair, the engine is repainted and extensively tested on the test system. To be sure, we load the motors on the load test bench during testing.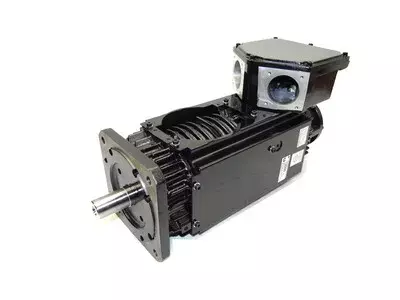 USAIKM-50-BK33 AC Servo Motor
5500.00 €
You can contact us in the following way:
Chat with our customer support, write us a message: [email protected] or call us: +49 6251 9888430