Okuma servo drives from UL100, OSP7000 controls Repair – Exchange – Sale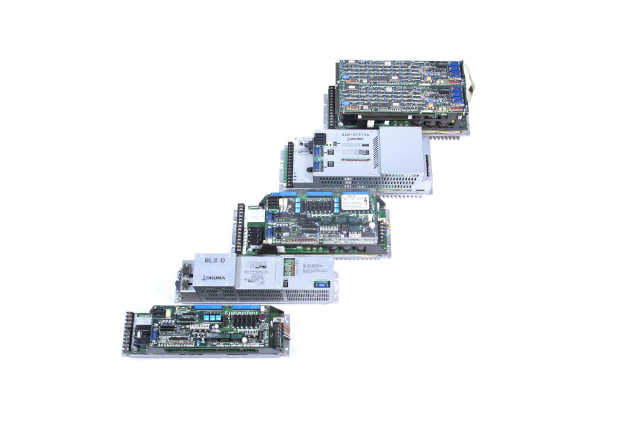 Repair of Okuma BLII-D, BLIII and BLIV drive modules and Okuma boards E4809-770-069 and E4809-770-065
1 Axis Module: BLII-D15A, BLII-D30A, BLII-D50A, BLII-D75A, BLII-D100A, BLII-D150A
2 Axis Module: BLII-D1515A, BLII-D3015A, BLII-D3030A, BLII-D5030A, BLII-D5050A BLII-D7550A, BLII-D7575A
1 Axis Module: BLIII-D15A, BLIII-D30A, BLIII-D50A, BLIII-D75A, BLIII-D100A, BLIII-D150A
2 Axis Module: BLIV-D1515A, BLIV-D3015A, BLIV-D3030A, BLIV-D5030A, BLIV-D5050A BLIV-D7550A, BLIV-D7575A
Board 1 Axis Module: E4809-770-069A or E4809-770-069B
Board 2 Axis Module: E4809-770-065A or E4809-770-065B
Convince yourself of our high level and our services. We would like to prove to you that we have perfected our know-how over the last few years
Development involves learning from initial mistakes and this model was not easy to explore at first. Problems like spare parts supply, error analysis and complaints arrived. A superficial overhaul is therefore not sufficient and by no means a solution. It requires a thorough overhaul, because after about 10 years of operation these devices have 12 channels in the direct final transistor control area, which are almost at the end of their consumption.
The channels are equipped with special hybrids and due to the constant tension and heat development your resources are used up and fail at random.
Other providers: Today you have just one channel repaired, tomorrow or in 2 months the next one. This procedure will ultimately cost you a lot more.
Many of our competitors know the problem, but often do not get to the bottom of it. They simply lack spare parts, which are usually no longer available and if then already used ones, which have to be soldered out of other devices. So who can afford to replace all 12 channels during this repair? Even Okumas renowned workshops only replace certain areas and hope that the unit will survive the said warranty period. We have developed the spare parts ourselves and have already used them in several repair cases with success and over a longer period of time. After our thorough overhaul, the overhauled equipment will continue to work perfectly during the warranty period and for several years afterwards. Our goal is not to get the same unit back on the table, but another unit that needs a proper overhaul. Of course it is an effort to repair all 12 channels, to overhaul all weak points, even those that rarely bring errors. Nevertheless, it is part of our standardization of procedures. And by certain quantities we can offer the price more favourable.
We use several test stations for Okuma Drives for better quality control
Extensive test sites
In-house repairs
Output test runs
Repairs on the component level by qualified personnel
Use of high quality components; no cheap replicas
Repair service at a glance
Free initial inspection at the test site
Standardized complete overhaul by competent specialist staff
Complete cleaning of the devices, circuit boards and housing parts
Replacement of all older and used wear parts, as well as readjustment
An alternative solution is offered for irreparable devices
12-month warranty on our repair and exchange service
Standard repairs in 4-5 days
Express repairs within 2 days
Validation of the defect: troubleshooting help for possible external sources of error
E4809-770-065 Board before repair
After repair
BLII-D30A Drive before repair
After repair
You can contact us in the following way:
Chat with our customer support, write us a message: [email protected] or call us: +49 6251 9888430